......Experience of the day.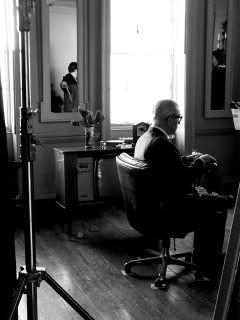 Of late I have been working an internship within the polydor sector of universal music.
I am positioned in the video department, where I assist with all work and create an easier working environment for my boss.
Besides mundane tasks such as phone calls and emails, one can also enjoy the perks of visiting the sets of the videos that we are commissioning.
Today, just so happened to be one of those days.
After a less than impressive evening in my home town yesterday evening, I was in a most thunderous mood en route to work this morning, stuck in the mind frame of bitter pessimism and feeling as though this slump mood was not going to make a move any time soon, I had a minuscule panic attack whilst engulfed among the masses that share the grind of a daily commute with me.
Luckily it was a self contained, less than a minute, burst of severe mental breakdown, though enough to make me think SOMETHING profitable was heading my way, as I have found that it takes the most unpleasant of experiences to tip me off that a burst of optimism is heading my way.
I was well aware that this particular morning was going to be moderately hectic due to it being a shoot day and having to be in charge of making sure everything ran as smoothly as humanly possible in relation to certain people being in certain places and certain times.
But this was dealt with quickly and easily leaving my afternoon free.
I was adamant that I was going to go down to the shoot and see how things were looking, because not only was it being directed by a duo that I personally find to be utter genius's at what they do, but, one of my most respected and looked up to actors was to be starring in it also.
The set was insanity, shot in the heart of east central London, just off brick lane, in the most stunning of refurbished houses, with original wooden flooring and stairwells, it was complete madness, with no room for the crew to move around in, let alone stragglers on such as myself, I couldn't help but feel slightly 'in the way', though I did my best to go as unnoticed as possible.
Time passed and eventually the call was made for shooting, so we headed to the first floor, huddling in separate doorways and corridors to watch the masterpiece take a further step towards completion.
And there he was, sitting in a vintage wooden carved arm chair, hair slicked back and sporting a pair of thick rimmed 80's inspired bottle end glasses.
In his arms, he held a wooden carved model of a horse, his prop. (prized possession)
The sense of professionalism that was so visibly radiant from him was somewhat overwhelming, though I instantly overcame such feelings when he approached me outside and questioned the pin badge I was wearing on my jacket.
"This? Oh, This is the company I run with a friend of mine" I said, "Here, take it" Removing the badge and placing it in his hand I began to tell him the story behind Monsta and how we went about the things that we do.
His reaction to it all could not have been more pleasant, a real sense of sincere interest, that showed just how incredibly down to earth and enjoyable he happens to be.
We conversed on a number of subjects before he was called back for the final scenes but left on the note that we would be more than honored for him to become involved with what we do and that perhaps sometime in the future, this might become a possibility.
All in all, a most eventful, inspiring and positive thought provoking day was had.
It could not have been more opposite from what I had expected.
Thank you to everyone.